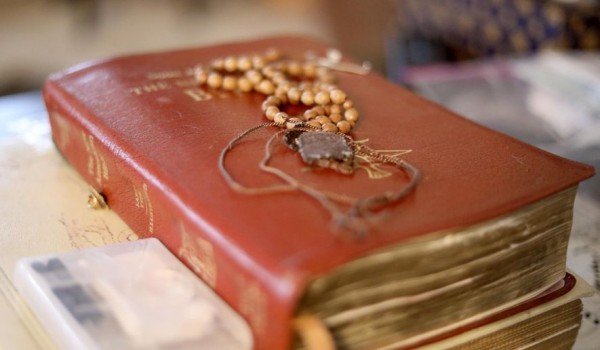 A rosary, scapular and Bible rest on a coffee table in Rancho Cucamonga, Calif., on Thursday, Sept. 26, 2019. (AP Photo/Wong Maye-E)
Ishtartv.com - washingtontimes.com
By Christopher Vondracek - The Washington Times - Wednesday, November 11, 2020
Governments have been cracking down on religious expression more than any other time in recent memory, says a new report on global religious persecution.
The Pew Research Center's tracking of government restrictions on religion noted a 50% increase in 2018 since the survey's inauguration in 2007, according to the report published Tuesday.
From outright bans on public worship by Christians and Jews in Qatar to an Australian judge's refusal to allow a Muslim defendant's wife to wear a veil in court, the survey documents a year of growing aggression among the world's governments in disrupting citizens' religious practices.
The survey singles out countries in the Asia-Pacific and North Africa/Middle East, where several nations receive "high" or "very high" persecution ratings.
Officials in the Philippines forced three United Methodist Church missionaries to leave the country. Authorities in Thailand arrested six Buddhist monks. And Israeli police injured an Ethiopian Christian while removing him from a church.
Meanwhile, the Egyptian government continues to restrict access for Shiite Muslims to a tomb of the Prophet Muhammad's son, revered by the Sunni majority. The report also cites Myanmar's displacement of 14,500 Rohingya Muslims and Tajikistan's increasing control over religious education travel and its continued refusal to recognize Jehovah's Witnesses.
The report also flags persecution of Jehovah's Witnesses in Russia, which has confiscated up to $90 million in property from the group.