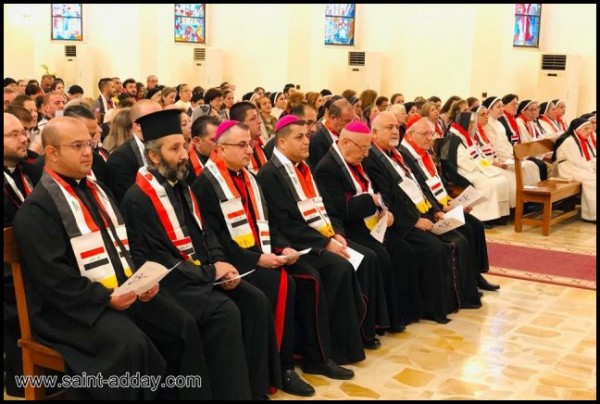 Ishtartv.com - Media of the Chaldean Patriarchate
His Beatitude Patriarch Louis Raphael Cardinal Sako led an ecumenical prayer for peace, safety and stability in Iraq. The event was organized by the Chaldean Patriarchate at St. Joseph Cathedral in Baghdad on Monday the 4th of November 2019 and themed "O Lord of Peace, Grant our Iraq Peace".
The program included a minute of silence in memory of the innocent casualties of protesters and security forces and also for the speedy recovery of the injured. While prayers involved, hymns, psalms, a reading from the Gospel of Matthew Beatitudes, religious songs etc. Faithful carried candles and wore the Iraqi flag.
The prayer was attended by Bishop Yousif Abba; auxiliary bishops: Shlemon Warduni, Basilios Yaldo and Robert Saeed Jarjis; Fr Alfred Younan; a group of priests, nuns and a large gathering of faithful in spite of transportations difficulty and closed roads.
Below is the address of His Beatitude Sako:
Address of the Ecumenical Prayers Gathering
Dear Sisters and Brothers,
We gathered this evening to pray for Iraq in order to come out of the current crisis fully recovered and to restore its normal life in sovereignty, unity, security, stability and wealth. Our hearts are "sore" for what is happening to our country and our citizens, without exception. Let us all stand for a minute of silence to pay tribute to the innocent souls of casualties of both protesters and security forces. Let us pray also for the speedy recovery of the injured, that the blood they shed on this "holy" land will be a motive for reconciliation and radical positive change.
These young people went out to the streets demanding their rights because they found themselves heading to "no through road", expressing their pain. Where there is a shortage in services, in electricity and water etc. The same thing applies to health and educational institutions, streets, and employability. In fact, whoever take away these fundamental rights from his citizens commits an unforgivable sin. No matter how they categorize it.
Corruption and sectarianism are the major cause for the deterioration of the situation, dividing the country and creating such absurd conflicts. The most awful thing is that everyone is talking about this phenomenon starting from officials in the Government, but none of them dare to eradicate this "cancer". That is how people lose confident and came out to the street demanding their "stolen" rights in a peaceful way. Protesters managed to overcome sectarian barriers and restore their national identity, which is by itself a remarkable achievement, since no one is greater than Iraq. This is what we have seen during our visit to Tahrir Square in the late afternoon of Saturday 2 November 2019, where we were all citizens with one concern, of caring about Iraq, we were impressed with how protesters look at each other, as brothers belonging to the same country raising a slogan of "We want a homeland!!" This national unity ascended from their shared pain and should be the basis for building "tomorrow's" Iraq.
From this platform, we invite the Iraqi political officials to listen to the "shout" of protesting daughters and sons in a constructive and responsible spirit. We also, call them to respond effectively with a humbleness of the brave men to speed up the adoption of appropriate decisions to protect Iraq, promote its' economy and services, after the dilemma of poverty, pain and waiting.
As we salute our sisters and brothers from all Iraqi ethnicities, we call upon them with great care and love to exercise wisdom in order to keep their protest peaceful, away from incitement and all forms of threats or violence. We also call on all media "networks" to emphasize cohesion among citizens.
In closing, we pay special tribute to our security forces, reminding them to embrace the march of their people towards a more stable and prosperous tomorrow.